NOS Energy Drink Activates at Formula DRIFT
The seventh season of the Formula DRIFT season kicked off with Round 1: Streets of Long Beach. The event was a huge success with a packed paddock, pits, and grandstands throughout the day. The ID Agency manages public relations for the series as well as the creative and website. This event had over 200 media members attend and received coverage from KTLA Ch. 5 news, USA Today, and the Long Beach Press Telegram.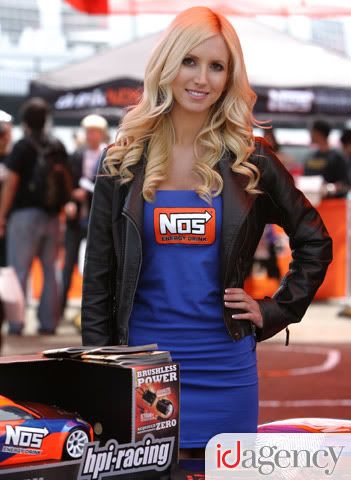 The ID Agency worked with Motorsports Management International (MMI) to manage the on-site activation and organization of the displays for the new official energy drink of Formula DRIFT, NOS Energy Drink. NOS Energy Drink had two key areas at central locations, one by the entrance and one by the track and grandstands, for promotional purposes. The area by the entrance had NOS spokesmodels greeting fans as they entered the venue and handed them a NOS Energy Drink sample. This area also included special vehicles on display that included the Import Tuner Mitsubishi EVO and RJ DeVera's Acura NSX. A DJ spun music throughout the day and NOS swag was given out as well.
The second area had thousands of fans sampling a drink as well as check out special drifting RC cars from HPI and playing video games. This area also included the pits of Formula DRIFT Champion and sponsored NOS driver Chris Forsberg. Spokesmodels assisted in this area to hand fans swag and learn more about the product. A special artist was brought on to do a live art show and entertain fans.
Throughout the event weekend all eyes were on Chris Forsberg and his title defense. While fans were watching all the action they were also exposed to NOS branding throughout the venue. Overall, it was a successful kick-off to the Formula DRIFT season for the energy drink brand and they look to continue their activation throughout the Formula DRIFT tour and at the upcoming Toyota Grand Prix of Long Beach.