Art of Formula DRIFT: A 2009 Season Retrospective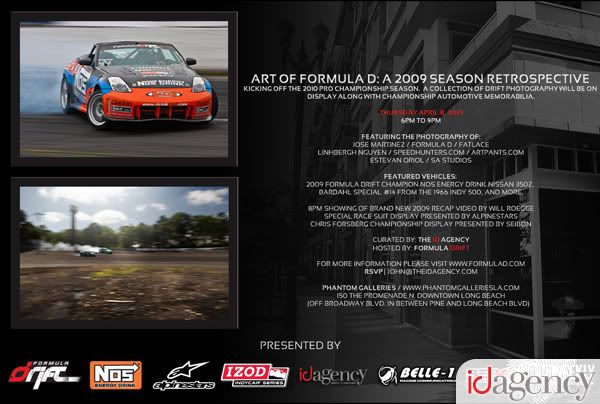 The ID Agency and Formula DRIFT presented the Art of Formula D: A 2009 Season Retrospective. Sponsored by NOS Energy Drink, Alpinestars, Seibon Carbon, Izod IndyCar League, Belle-1 Communications, and OC Weekly and held at the Phantom Galleries LA at the Pacifica Building in Downtown Long Beach.
The ID Agency worked with Formula DRIFT staff photographer Jose Martinez to come up with the concept and curate the exhibit. Top drifting photographer and film maker Linhbergh and Will Roegge were brought on to present their artwork as well as famous LA photographer Estevan Oriol.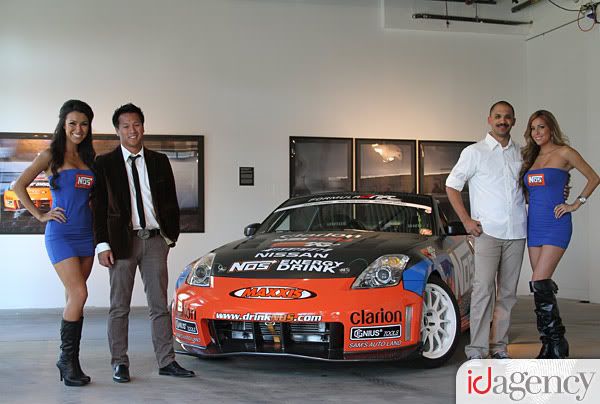 Selecting the perfect location was key and the gallery space held by the Phantom Galleries LA in Downtown Long Beach became the perfect setting. Located in the heart of Downtown Long Beach within walking distance of the track, restaurants, entertainment, and most importantly the track. During the Long Beach Grand Prix weekend the gallery is expected to have thousands of fans walk through the promenade on their way to the track and will get a glimpse of the photo gallery.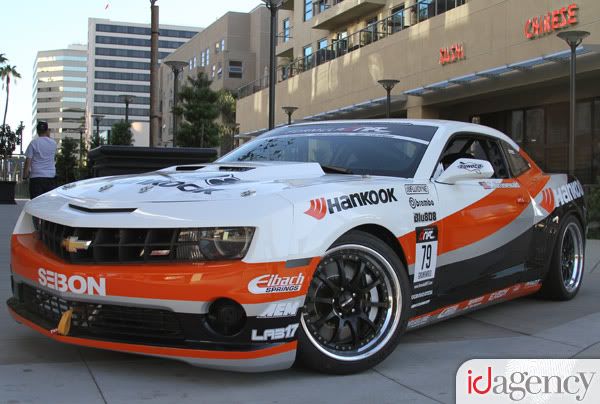 NOS Energy Drink was the presenting sponsor as the gallery featured the 2009 Formula DRIFT champion Chris Forsberg and his championship winning NOS Energy Nissan 350Z alongside championship memorabilia and race suits from Seibon Carbon and Alpinestars. The IZOD IndyCar Series brought out a classic 1966 IndyCar for display as well alongside a few other Formula DRIFT competition vehicles.
The opening night ceremony kicked off the seventh season of competition for Formula DRIFT with Round 1: Streets of Long Beach commencing the following day. Guests that attended included members of the media, local Long Beach officials, Formula DRIFT teams, sponsors, and drivers, and a host of industry insiders.
The Art of Formula D: A 2009 Season Retrospective will be up through the month of April and open to the public during the Toyota Grand Prix of Long Beach weekend.
The gallery debuted the Art of Formula D: 2009 Retrospective video by Will Roegge.
Art of Formula D: 2009 Retrospective from Will Roegge on Vimeo.